October State of the Thing via @LibraryThing on #3ChicksAndSomeBooks
LibraryThing: State of the Thing
Dear 3ChicksAndSomeBooks.comWelcome to the October 2019 State of The Thing. This month we have updates about our ongoing redesign, a Halloween Hunt, and a quick rundown of recent awards news.
If you'd rather receive a plain-text version, edit your email preferences. You can also read it online. Our newsletter archive lives here.
You can like LibraryThing on Facebook and follow @LibraryThing on Twitter for up-to-the-minute site news and updates.
Big News
LT2 Updates
We're hard at work on a design update we're calling "LT2." Chris (@conceptdawg) has posted some drafts of the new design and we're looking for comments and opinions.
The new design aims to make LibraryThing look and work great on all devices, including smartphones and tablets, as well as increase ease of use and accessibility. A new design has been a long time coming; we hope you like where we're going.
See detailed before-and-after images on Talk: LT2: Design drafts are here!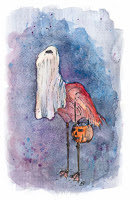 Halloween Hunt
Our second annual Halloween Hunt has begun. Follow the clues to find pumpkins we have hidden around the site. Gather all the pumpkins and be entered into a contest for a tshirt. Happy hunting!
Free Books!
Early Reviewers is our program where you can win free(!) advance copies of books to read and review. Sign up to request books. Books for all ages and interests available.
The October batch of Early Reviewers has 4,090 copies of 107 books. It closes on October 28th. The deadline to request is October 28th at 6pm EDT.
The most requested books of the October batch:
Book World Updates
Autumn is Awards season in the book world. The Nobel Prize for Literature went to Olga Tokarczuk for a belated 2018 prize, and Peter Handke for 2019. The National Book Award also named its finalists, winners to be announced on November 20th. Finally, the MacArthur Foundation awarded its Genius Fellowship, among them authors Lynda Barry, Saidiya Hartman, Valeria Luiselli, Ocean Vuong, and Emily Wilson.
Talk of the Thing
The Reading Globally group is discussing "Mitteleuropean," literature just in time for an Austrian to win the Nobel. Timely!
The Gothic Literature group is looking for recommendations of modern Gothic writers, in an appropriately October mood.
Did You Know?
LibraryThing App. Are you using our LibraryThing app? With our app, your catalog is available on your mobile device, and it can scan ISBNs using your device's camera. Catalog quickly and conveniently from your phone. Available on iOS and Android.
Custom Recommendations. Looking for your next read? At any time, you can see a list of recommendations we make just for you.
TinyCat
TinyCat is the online catalog for small libraries, created by LibraryThing. It turns your existing LibraryThing account into a simple, professional, web-based catalog.
Check out our playlists of Tiny Tutorials on LibraryThing's YouTube channel, where Kristi walks you through various features of TinyCat in 30 seconds or less.
Hot This Month
That's it for this month. I'll see you all in November.
Questions, comments, ideas? Send them my way.
— KJ (kj@librarything.com)